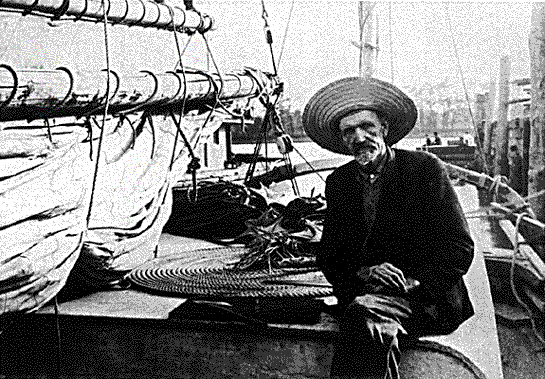 All adventurers should have jaunty hats.
"Now, it it well known that one cannot step on a tack without saying something about it."
I spent one summer in the rain of Nova Scotia, mostly trapped indoors and listening to the only radio station that I could receive, the CBC, which presented the same four hour program of news and music repeated six times a day. Since my intention was to spend this time sailing, I had brought only two books with me that I wound up having to read very, very slowly.
One was a biography of Jack London and the other an account of the first solo circumnavigation. The common denominator, besides both containing observations about life under sail, was in the name of the boats. London bought, with the proceeds from
The Call of the Wild
, a 30-foot sloop that he named
Spray
. It was on board his
Spray
that
The Sea Wolf
was written.
By coincidence, the second book, written by the captain who managed the feat of circumnavigation, also was about a boat named
Spray
, although she was slightly older, having been commissioned [or "planked"] in 1899, four years before London's boat. Clearly, I recognized the fate in this coincidence and named my 10-foot lateen-rigged sailboard
Spray
, too. Although I did not circumnavigate with it nor write a best-seller, it still provided me with some adventure and amusing stories about my earliest, and often maladroit, attempts at sailing.
The original
Spray
was skippered and owned by a cantankerous and dour maritimer by the name of Joshua Slocum. He had been born in the mid-19th century in the same area of Nova Scotia where I was staying and, as one of eleven children, sought at an early age to get out of a very crowded house. He finally succeeded at the age fourteen when he, rather predictably for a Nova Scotian, ran away to sea, moving up the employment ladder from cabin boy to ordinary seaman to able bodied seaman and, at the age of 25, to ship's master.
Captain Slocum married and had children, his family accompanying him as he mastered various merchant craft up and down the Americas. After a particularly harrowing adventure on a very unlucky boat that left them stranded in Brazil, the Slocums built another boat using local materials and labor and left on the day that slavery was abolished in that country. The voyage in that boat, named
Liberdade
in recognition of Brazilian emancipation, was to serve as the subject of Slocum's first attempt at maritime memoir,
Voyage of the Liberdade.
Slocum and his family relocated to Fairhaven, Massachusetts upon their return to the United States. It was there that Slocum bought and re-fitted a retired oyster boat, a 36 foot gaff-rigged sloop, and named her
Spray
.
Not the original, unless Slocum was 6 inches tall.
On April 24, 1895, leaving behind his family, Slocum began the "research" on his next book:
"I had resolved on a voyage around the world, and as the wind on the morning of April 24, 1895 was fair, at noon I weighed anchor, set sail, and filled away from Boston, where the Spray had been moored snugly all winter. The twelve o'clock whistles were blowing just as the sloop shot ahead under full sail. A short board was made up the harbor on the port tack, then coming about she stood to seaward, with her boom well off to port, and swung past the ferries with lively heels. A photographer on the outer pier of East Boston got a picture of her as she swept by, her flag at the peak throwing her folds clear. A thrilling pulse beat high in me. My step was light on deck in the crisp air. I felt there could be no turning back, and that I was engaging in an adventure the meaning of which I thoroughly understood."
Seems a bit surprising when one thinks about it, but in the entire history of sail no one had ever completed a solo trip around the world until the late 19th century. Maybe it was the daunting notion of manning a labor-intensive boat 24 hours a day, or the absence of fellowship, or the sheer boredom of it all [Remember that song sung by Fred Astaire in one of his early films with Ginger Rogers: "I joined the navy to see the world, and what did I see? I saw the sea." That about sums it up.], but no one had ever succeeded in the feat. Given his skill and experience as a sailor, and the fact that he didn't mind being alone at sea, made him the likeliest candidate for success in the venture.
As one who can get lost sailing from Point Judith to Block Island, or even from Cleveland to Rondeau, Ontario [it's due north, just so you know], it still amazes me that Slocum didn't even use a chronometer for navigation, merely a cheap clock and a sextant with which he took noon sightings. With these ancient and simple tools, Slocum left the coast of Massachusetts and sailed to Nova Scotia, then to the Azores, Gibraltar [where he out-ran Moorish pirates], the Canaries, Cape Verde, down to Tierra del Fuego, the Galapagos, New Zealand, Australia, the Dutch East Indies, East Africa, around the Cape of Good Hope, and back to the United States by way of Recife three years later. [To be honest, I just like typing all of those exotic names.]
In addition to pirates, Slocum visited or otherwise kept company with a variety of colorful people, including the widow of Robert Louis Stevenson in the South Pacific and, when he fell ill at sea, the apparition of the pilot of Columbus'
Pinta,
who helmed the
Spray
through a storm while Slocum was incapacitated.
He returned to harbor in Newport, Rhode Island in June, 1898 and published, the next year, his account of the adventure,
Sailing Alone Around the World
.
It's still in print and available in hard cover, paperback, and for 99 cents, electronically.
For anyone with even a tangential interest in sailing, it's required reading.
In the winter of 1909, Slocum and
Spray
set sail again, this time it was a solo voyage to the West Indies. Neither
Spray
nor Slocum were ever seen again. That's rather a perfect end for a sailor; and for a good boat, too.
"I had already found that it was not good to be alone, and so made companionship with what there was around me, sometimes with the universe and sometimes with my own insignificant self; but my books were always my friends, let fail all else."