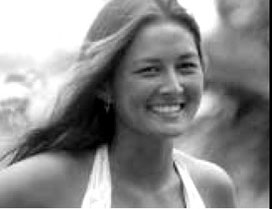 Rell Kapolioka'ehukai Sunn was the first real woman surfing champion. Her middle name, which I have never been able to pronounce, means "Heart of the Sea", which sums up her life admirably, not to mention does some favor to the sea, as well.
For those who are rolling their eyes right now and thinking, "Right, old Clem's off on another surfing tangent", the reason that I consider her a true hero is that she took enthusiasm for her sport and turned it into something that was, and is, far more spiritual and meaningful than any bilious nonsense found in books and films about the spirituality of surfing. She also made it practical.
Sunn was born and raised, in fact lived her whole life, on the west side of Oahu. It is a place of sublime waves, which explains why, beginning at the age of four, Sunn was nearly always in the water and often on a board while there. In 1966, she competed in the first, and now legendary, world contest of surfing and, two years later, started the women's circuit in professional surfing.
In addition to her surfing talent, Sunn was a true waterman. This appellation, which is beyond gender, refers to the special status bestowed on those who master not only surfing, but are talented and able swimmers, sailors, divers, anglers, etc. She was also a radio personality, teacher, lifeguard, and hula instructor; not to mention a "freediver", those who practice deep diving without benefit of scuba or other underwater breathing equipment.
In 1983, Sunn was diagnosed with breast cancer and given a year to live. That's where her story moves from that of a talented athlete to one of a committed social activist.
Not only is Oahu's west side, Makaha, known for its surf, but also for its poverty and lack of educational opportunities. Sunn had always given back to her community, but this became rather sublime after her diagnosis.
To quote from her official
web biography
:
Sunn's boundless contributions begin with her menehune
[that is, "junior" - ed.]
contest on the West Side that she inaugurated in 1976. Every year, she collected prizes and trophies to give children with few opportunities a chance to taste success. She also found surfboards for those who couldn't afford them and guided many young Hawaiians from troubled childhoods into promising careers in surfing. Without her energy and compassion, many of top Hawaiian professionals, from Johnny Gomes to Sunny Garcia, would likely have ended up on the wrong side of the law.The scope of her goodwill was not limited to Hawaii. Since the 1966 World Contest in San Diego, her first real surf trip, her life was a collection of journeys. In 1986, she joined a Surfer magazine expedition that brought surfing to communist China. She traveled extensively, spreading Hawaiian aloha to every corner of the globe and always returning to Hawaii having brightened a few more lives. "Rell's Motel," her quaint home just one minute from Makaha, was a sanctuary for wayward visitors. It was her mission for people to leave with more direction than they came.
Despite the dire diagnosis, Rell Sunn lived another fifteen years and became known as the Queen of Makaha. She surfed until the end. She truly was "the heart of the sea": natural, beautiful, compelling, and, when on a surfboard, wild.
[I knew a fellow who was able to surf any beach in the world because he had once been a resident of "Rell's Motel" and would tell wonderful stories of her spirit and kindness. It sort of made him a citizen of the world, as this status guaranteed that he could surf anywhere from Hawaii to Bali to Rincon to Barbados and not be hassled by the locals. After all, they figured, he knew Rell Sunn and had received her beneficence, so he must be okay.]
As she once said, and as serves as a perfect motto for what she did both on and off a surfboard: "The aloha spirit is real simple. You give and you give and you give from the heart, until you have nothing else to give." That heart, the heart of the sea, as she demonstrated, seems never to run out of giving.